WEEKLY REFLECTION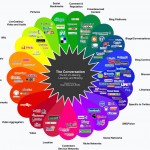 Our presence is a present. Living consciously allows us to move from a place of greater awareness.  Being mindful within each moment rewards us and the people around us. We can so easily find comfort in virtually connecting that we lose sight of our human connection.  We can make a conscious effort to be present; to put down are phones and say hello to a stranger or turn our phones off and connect with nature. Either way, its a good practice to connect with each other beyond technology.
None of these forms of media within this image shown could ever beat a HUG, Smile or moment of laughter with a friend or loved one.
How often am I looking at my phone through the day? Do I make efforts to connect with my loved ones and humanity beyond technology?
Disconnect to Connect ~ This is a great video that compliments the topic. Enjoy